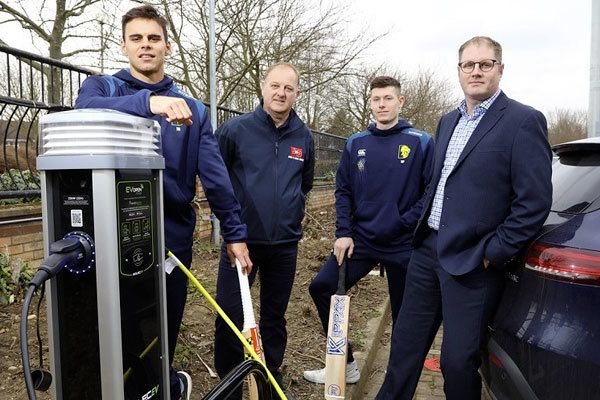 Client: Durham Cricket
We installed dual 22Kw Rolec Quantum EV Charge points opposite the entrance to the stadium in Chester-le-Street. The charging points are available to staff and players, and it is hoped that they will also be available to spectators and other customers in the future as provision is expanded.
We were brought together by RMT Accountants & Business Advisors, which works as an adviser to both, and designed the financial aspects of the project.
The John N Dunn team completed all the ground works for the project, including trenches, bases and reinstatement works, while the back-office system of the chargers they specified provides detailed information on usage and user preferences to help ensure the system is being used as efficiently as possible.
The charging points' installation and the increase in the number of electric cars within its fleet are the latest in a series of sustainability-focused projects that Durham Cricket is undertaking in and around the Riverside ground to reduce both its energy consumption and carbon footprint.
LED lighting has recently been installed in the club's pavilion, the building management system has been upgraded to maximise the control available over its heating and lighting systems, and efficient new boilers are set to be brought in in the near future.
Ian Dawson, finance director at Durham Cricket, said: "With a growing proportion of our vehicle fleet becoming electric, it made sense to look at putting our own charging infrastructure in place, especially with the financial incentives that are currently available, and the John N Dunn team has done an excellent job in meeting our requirements."
Stephen Bilclough, chairman at John N Dunn Group, added: "Working with an iconic brand like Durham Cricket will be a real boost for us as we look to increase our presence in the thriving electric vehicle and renewable energy technology markets.
"The major housebuilders that we already work with are installing electric vehicle charging points in the new homes they're building as standard, and we already hold the Office for Zero Emission Vehicles accreditation required to carry out this work."
He said: "With more and more individuals and businesses moving to electric vehicles, we can only see demand increasing for these services and we're now training up more installation teams to ensure we have the resources required to meet the heightened levels of customer demand that we're expecting."
Paul Gainford, director of commercial services at RMT Accountants & Business Advisors, added: "Alongside the obvious environmental and logistical benefits, there are significant tax and commercial benefits to be had from installing this sort of infrastructure and we're getting increasing enquiries about how such projects might best be taken forward."
The image shows l-r: Durham Cricket's David Bedlingham, John N Dunn managing director Brian Smith, Durham Cricket's Matthew Potts and Paul Gainford of RMT Accountants & Business Advisors